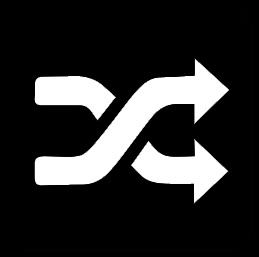 Tumblr
Петъчно, ето една забавна занимавка.
Music Shuffle Survey
RULES:
1. Put your music player on Shuffle
2. For each question, press the "next" button to get your answer.
3. YOU MUST WRITE THAT SONG NAME DOWN NO MATTER HOW SILLY IT SOUNDS.
4. Put any comments in brackets after the song name
5. Tag friends who might enjoy doing this.
1. IF SOMEONE SAYS "Is this Okay?" YOU SAY?
-"Bleeds No More" - Silverstein
2.
WHAT WOULD BEST DESCRIBE YOUR PERSONALITY?
- "Broken" - Amy Lee feat. Seether
3.
WHAT DO YOU LIKE IN A GUY/GIRL?
-

"Bulls in the Bronx

" -

Pierce the Veil
4.

WHAT IS YOUR LIFE'S PURPOSE?
-

"Writing on the Walls" - Underoath
5. WHAT IS YOUR MOTTO?
- "I Hate Everything About You" - Three Days Grace
6. WHAT DO YOUR FRIENDS THINK OF YOU?
- "The Curse of Curves" - Cute is What We Aim For... :D
7. WHAT DO YOU THINK ABOUT OFTEN?
- "Hate" - Plain White T's ("Hate is a strong word, but I really, really don't like you.")
8. WHAT DO YOU THINK OF YOU BEST FRIEND?
- "This Is Who We Are"- Hawthorne Heights
9. WHAT IS YOUR LIFE STORY?
- "King For A Day" - Pierce The Veil feat. Kellin Quinn ("You told me think about it, well I did. Now I don't wanna feel a think anymore.")
10. WHAT DO YOU WANT TO BE WHEN YOU GROW UP?
- "You're Not Alone" - Saosin ("Confused by the lies she's been fed and she's searching for no one... but herself")
11. WHAT DO YOU THINK WHEN YOU SEE THE PERSON YOU LIKE?
- "All These Thing I Hate" - Bullet For My Valentine :D
12. WHAT DO YOUR PARENTS THINK OF YOU?
- "Liar" - Taking Back Sunday (why? :D)
13. WHAT WILL YOU DANCE TO AT YOUR WEDDING?
- "Dear Maria, Count Me In" - All Time Low (wtf???)
14. WHAT WILL THEY PLAY AT YOUR FUNERAL?
- "Pain" - Three Days Grace
15. WHAT IS YOUR HOBBY/ INTEREST?
- "Do or Dir" - Agnostic Front :D
16. WHAT IS YOUR BIGGEST SECRET?
- "Blood On My Hand" - The Used (I'm innocent! :D)
17. WHAT IS THE WORST THING THAT COULD HAPPEN?
- "The Bomb Dot Com V2.0"- Sleeping With Sirens
18. HOW WILL YOU DIE?
- "Royals" - Lorde (Okay :D)
19. WHAT IS THE ONE THING YOU REGRET?
- "Wings" - Birdy ("If these wings could fly...")
20. WHAT MAKES YOU LAUGH?
- "You" - The Pretty Reckless
21. WHAT MAKES YOU CRY?
- "Miles Away" - Memphis May Fire feat. Kellin Quinn :(
22. WHAT SCARES YOU THE MOST?
- "Use Somebody" - Kings of Leon
23. IF YOU COULD GO BACK IN TIME, WHAT WOULD YOU CHANGE?
- "City Of Angels" - 30 Seconds To Mars (Who doesn't want this?)
24. WHAT HURTS RIGHT NOW?
- "Since You're Gone" - The Pretty Reckless
25. WHAT WILL YOU POST THIS AS?
- "Hurricane" - 30 Seconds To Mars :D
Повече от отговорите няма никакъв смисъл за мен, но поне е забавно като ги чете човек.
И накрая искам да тагна две момичета, които мисля, че ще се изкефят на такива занимавки. Мани
и
Нина
извинявайте, че ви въвличам тук, но се надявам да се забавлявате.
Tumblr
ВЕСЕЛ И УСМИХНАТ ПЕТЪК НА ВСИЧКИ!
И НЕКА МУЗИКАТА БЪДЕ С ВАС! :)